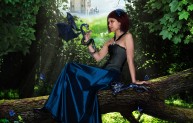 This is a picture of my best friend, Erika.
She took a photo of herself in a pose she wanted to use for a future painting. I high-jacked the photo without her knowledge and turned it into this – and then gave it back to her as a gift.
This photo-manipulation is made out of 19 pieces all in all.
Quite the jigsaw puzzle!
Model and photo: Erika of Seiren design.

~Stock images~
Background: Sky-of-Silver, jackies-stock, Kechake-stock, mysticmorning, JLStock and anaRasha
Dragons: Lill-stock and Elevit-Stock
Jewelry: anettfrozen and Thy-Darkest-Hour
Hat: Skitsofrenika-Stock
Butterflies and mushrooms: JinxMim
Blubells: My own photo, I think.